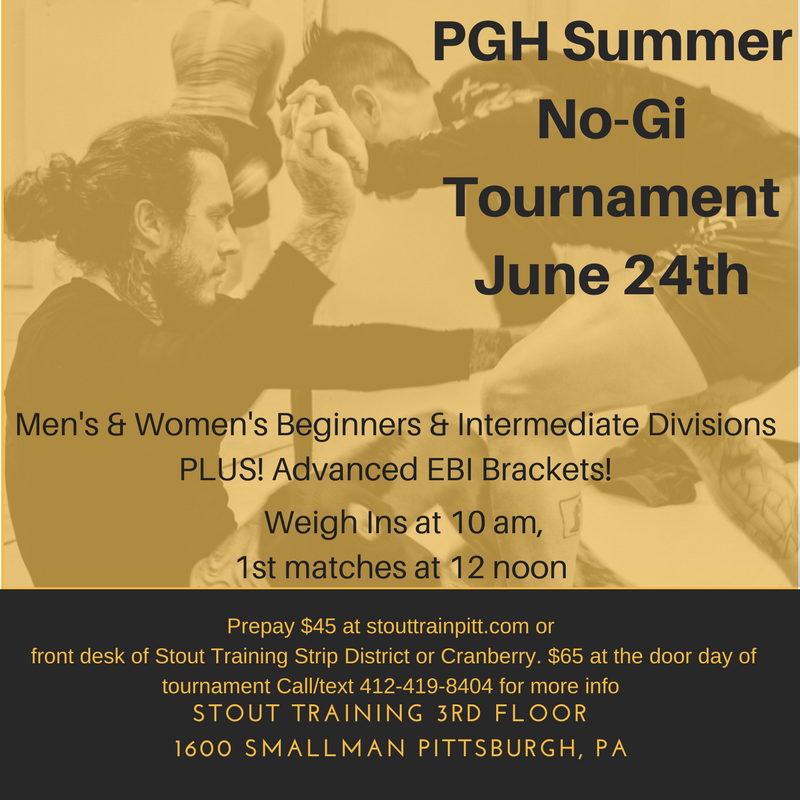 Pittsburgh No-Gi Grappling Tournament June 24th
On June 24th from 12 pm-3 pm, Stout Training Pittsburgh – Team Renzo Gracie will be hosting another Pittsburgh No-Gi Grappling Tournament with men's & women's divisions, in both beginners (white belt) & intermediate (blue belt) & for the first time ever an Advanced EBI rules division!
Weigh ins will be on Friday June 23rd from 6:30-7:30 pm & Saturday June 24th from 10-11 am in the Strip District. We will have rules meeting at 11:30 am with first matches starting at 12 noon.

This is a great opportunity for any white & blue belts to start competing in a relaxed environment without spending a lot of money or for anyone looking for a good "tune-up" tournament to prepare for a competition later in the year. With a double elimination format competitors can expect to get a minimum of two matches. This tournament once again, is open to any competitors, regardless of school or team affiliation!
Weight classes for men's beginners & intermediate divisions will be 155 and below, 170-155, 190-170, 220-190, & Hwt. Women's weight classes & divisions will be made based upon sign ups.
For the first time ever we will be having a purple belt and above super fight bracket. Looking to do a 4-8 man bracket with EBI rules. Message us if interested in competing.
EDIT: Due to interest and size differences, we will do two advanced brackets:
180 lbs & below
180 lbs & above
Competitors can pre-register for $45, or register the day of the tournament for $65.
$65 ENTRY AVAILABLE AT THE DOOR VIA CARD OR CASH