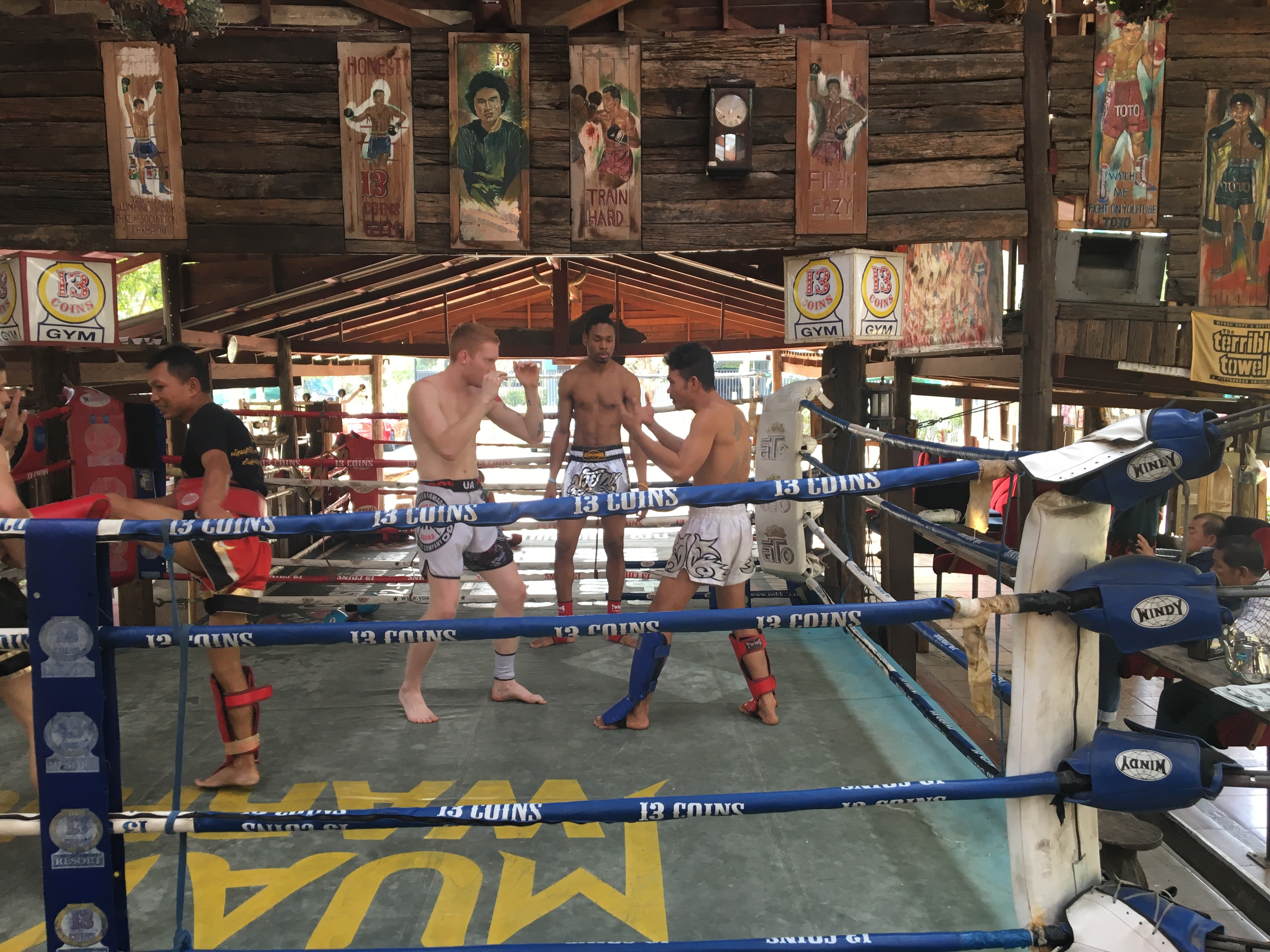 Summer Thailand Trip 2017
Train in Thailand with Kru David Reese. If you are a student of Muay Thai, a casual student or any level up to and including fighting, this is the tour for you.  Kru Reese offers a guided tour that insures you will train beside current and former Muay Thai Champions safely, at your own level.  Each day will find you spending personal time with some of the greatest legends of Muay Thai in a welcoming, safe and structured environment. Kru Reese lived, fought and trained in Thailand for over 7 years. He had the honor of working for the Royal Household.  Kru Reese speaks fluent Thai and has developed personal and professional relationships that will allow you to experience the inner sanctum of Muay Thai and Thai culture from a perspective that is rarely seen by foreigners. You will experience a Thailand that will change your life.
Sunday June 18 Welcome to the Kingdom of Thailand! Today is a day to get settled in the hotel and begin to absorb the flavor of this beautiful, exotic country.
Monday June 19 This begins your first day of Muay Thai training in one of the most renowned gyms in Bangkok. This will be your home gym for all of your in country training. You will receive personal and individualized training based on your skill level and your personal goals. The trainers include former champions and legendary fighters of the highest levels. At any given moment you will find yourself rubbing elbows with current champions and living legends of Muay Thai. After training take time for lunch and a maybe a short nap before a group supper were you will get to know your guides and fellow travelers.
Tuesday June 20 The day begins with another day of world-class training. By now the sounds of the gym and the atmosphere of the country have captivated you and you feel the rhythm of Thailand. After training enjoy lunch on your own and take a short nap or just relax preparing for the night's adventure.  We will journey to the Raja Boxing equipment factory where you will receive VIP treatment. The owners are personal friends of Kru Reese and you will find that you too are now part of the family. You will be able to order custom shorts, gloves, shin pads, any training equipment imaginable at discounted prices and have it ready to take with you when you return home. Raja is by far the premium brand in Muay Thai. Dinner is on Kru! After shopping you will be treated to an authentic and amazing Thai meal I promise you will long remember this meal. To cap the night off we'll sit ringside in historic Rajadamnern Boxing Stadium and enjoy the pageantry and beauty of professional Mauy Thai fights. You will be able to have your picture made with the victorious fighters. Twins Boxing has a store in the stadium and you will be able to grab special gear or souvenirs that catch your eye at affordable prices.
Wednesday June 21 Now your body is not only becoming accustomed to the training your heart and soul ache for it. You are three days in to your complete submersion in Muay Thai and the Thailand cultural experience. Train hard and then relax and have lunch. This afternoon you will experience the beauty of one of Thailand's most beautiful and revered temples, the Temple of the Golden Buddha. As part of your Kru Reese Muay Thai Experience you will recive a custom, handmade made traditional Mongkol (Mongkon) and Prajioud (Prajeet) set. This is no ordinary mass produced trinket for tourists. These traditional items are handmade in the colors you choose by a legendary Thai artist. She is a descendent of real Muay Thai royalty. Your visit to the temple of the Golden Buddha offers the perfect opportunity to have them blessed by a monk making them even more meaningful.  Hey what do you say? Let's cap the day off with a stroll through Bangkok's bustling, vibrant, colorful, exotic China Town filled with amazing dinning options and endless shopping opportunities.
Thursday June 22 Back in the gym for another day morning training! Lunch, a short relaxation period and then return for a seminar on the art of elbow strikes with Naront Siri, affectionately known as Mr. Pek. Pek is a living legend and is widely respected as a fighter, trainer of champions, and one of the most influential promoters/matchmakers in Thailand. With well over a hundred fights in Bangkok along, Pek has a record 43 consecutive knockouts by elbow. Pek created Prison Fights. You might find this link and interesting watch. It will give you some insight in to just how special an opportunity spending time with Pek is. https://www.youtube.com/watch?v=WG-IShOxrLg He will be with you most of your trip. If your interest is in fighting in Thailand Pek can arrange those opportunities.
Friday June 23 Train in the morning. Friday afternoon free for time sightseeing or shopping. Rest up because Bangkok comes alive at night.  Friday evening enjoy the Khaosan Road entertainment district nightlife accompanied by Kru Reese.
June 24 Saturday Morning training and an afternoon trip to the famous JJ Market. If you can imagine it you can find it in the 8000 vendor stalls.  You will find clothes, handmade items, jewelry, live animals, food, trinkets of every sort and coconut ice cream.  The ice cream alone is alone is worth the visit. The evening is yours to do as you please. For those so inclined come along with Kru Reese as he journeys to the legendary nightlife of Cowboy Soi.
June 25 Sunday is a day free from training.  This is a perfect opportunity to explore Bangkok. Kru Reese can help you plan your activities and offer tips for the best things to do and see.
Monday June 26 Morning training and a photo shoot. Each tour participant will receive professional photos of themselves and the other tour members training. You will have the opportunity to pose with your trainers, Kru Reese and Pek. We'll have your photos ready for you to be autographed before you leave. We will also deliver any of your custom ordered Raja gear to you today.
Tuesday June 27 Train in the morning followed by an afternoon trip on the waterways of Bangkok with opportunities to see temples and take in the majestic captivating beauty of Bangkok while floating down the historic waterways.  Tonight we'll all set down to a special meal and celebrate new found friendships and share memoires of our amazing adventure of a lifetime.
Wednesday June 28 Morning training and then enjoy use the rest of the day to shop, sightsee and pack before jetting home with a life time of memories.
The total cost of the 10-day Guided Tour Package is $1400.00
Included in the package:
Transportation to and from the airport
Hotel accommodations (18th-28th)
Transportation to and from the gym for scheduled training sessions
Muay Thai training and gym fees
Seminar with Naront Siri
Transportation to all the above attractions
Admittance fee to temples described in the tour description
VIP Seating at Rajadamnern Boxing Stadium
Custom, handmade made traditional Mongkol and Prajioud set
Professional photos of you training with your trainers, tour mates, Mr. Pek and Kru Reese
Prior to your departure you will receive a travel guide filled with information and travel tips including what to bring, how much spending money you might need, how to communicate back home cheaply, and almost you might need to know. Where to eat, what to see, what to pack, we got you covered. Upon receipt of your deposit you will receive the guidebook that is packed with tips to make your journey easy and pleasurable.
Contact Kru Reese with any questions: dr041163@yahoo.com
Payment Conditions and Deadlines
Only 10 spots are available. This allows for participants to receive a more personal training and tour experience.  To secure a spot a non-refundable deposit of $500 is required by no later than April 30, 2017. In some special cases Kru may allow a partial deposit of lesser amounts. Contact him for details on alternate arrangements. All tour participants are required a non-refundable fee of $1400.00 by May 12, 2017. Acceptable forms of payment are cash, certified check, money order or PayPal. NO CREDITS CARDS!
Not Included – Airfare, Meals (except the two provide as part of the tour) transportation for individual shopping or sightseeing trips
Frequently Asked Questions
Do I need a passport and Visa to enter Thailand?
A Passport is required but a Visa is not required of US Citizens in advance of arrival in the country for visits of 30 days or less.
Is language a problem if I don't speak Thai?
I have taken many students to Thailand and have arranged private tours for students traveling alone for years. Language has never been an issue. Bangkok is a large, cosmopolitan city and many Thais speak at least some English. Remember. Kru Reese is your guide and he speaks fluent Thai.
Is getting around in Bangkok difficult if I want to venture out on my own?
Bangkok has an ultra-modern Skytrain and Subway system that is very affordable. It is possible for you to travel almost anywhere using these systems for the equivalent of $2.00 or less.  Private metered taxis are plentiful and affordable. The average fair for a one way trip for about $3.00.
Is Bangkok safe?
It is a big city but I have found it to be very welcoming. I sent a student over there for a moth on is own last May. He is 62 years old and traveled alone. He tells me that he never once felt out of place of threatened. Using common sense goes a long way in insuring safety. I would say the same thing to anyone walking around their hometown.
Comments From Former Tour Participants
"I have traveled all over the world, Italy, Ecuador, Peru, Canada, Mexico, Panama. Japan, China, Jamaica, The Bahamas and more. Kru told me Thailand would "change me". Boy was he right.  He opened doors and exposed me to things that were beyond my expectations. The time I spent with Pek was worth the price of the entire trip. You could never see or do some of the things he made available on your own."
"All I can say is wow! Training is Thailand is like nothing you can imagine. One day I was in the gym and I was training in the same gym with one of the current champs while being trained by former champs with legendary histories. This is not a tour it is an experience."
"The training was unbelievable. My 10 days in Thailand took my game to a whole new level and made me love Muay Thai more. "
"Training was great! The country beautiful! The people friendly! I didn't want to come home."
"Kku Reese is the man! This is not some tourist Disneyland tour. This is real Muay Thai, real Thai culture. Thank you for giving more than my money's worth."