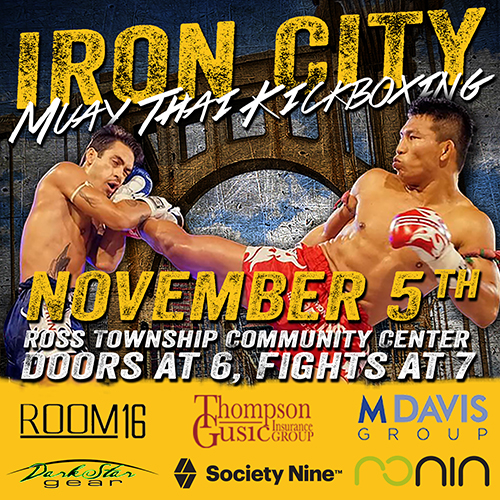 Iron City Muay Thai Kickboxing 1
Iron City Muay Thai Kickboxing 1 on November 5th, 2016 at the Ross Township Community Center north of Pittsburgh! Doors at 6, Fights at 7! Brought to you by ronin advertising group, M. Davis Group, LLC, Thompson Gusic Insurance Group, Dark Star Gear, Society Nine & featuring after party at Room16 in the Strip District!
Come see real Muay Thai Kickboxing fights in Pittsburgh, PA for the first time in years on November 5th, 2016 at Ross Township Community Center! This great night of fights will feature some of the best gyms and teams in Pennsylvania and the surrounding states! Come see some exciting striking action!
This all amateur Muay Thai Kickboxing card is sure to excite!
TENTATIVE FIGHT CARD:
FIGHT 9: ETHAN HAYES VS VINCE MENG (160 LBS)
FIGHT 8: SEAN WHITE VS MARK LIEBACH (170 LBS)
FIGHT 7: PAIGE TRIOLA VS MEGHAN SEKONE-FRASER (160 LBS)
FIGHT 6: DANNY RIVERA VS HARLAND DIETKE (135 LBS)
FIGHT 5: JAMIE JORDAN VS BRITTNI MICHAM (132 LBS)
FIGHT 4: DARREN CARABALLO VS RYAN TRAINOR (210 LBS)
FIGHT 3: MEGHAN O'TOOLE VS JACKIE ALTEMUS (125 LBS)
FIGHT 2: STEVEN ANDERSON VS NOAH DUMAINE (160 LBS)
FIGHT 1: JAMES WHITE VS SANJAY KHURANA (185 LBS)
Sanctioned by the USKA & Irv Althouse along with the PSAC!
TICKETS ARE AVAILABLE AT THE DOOR STARTING AT $40 FOR GENERAL ADMISSION & $70 FOR RINGSIDE SEATS!!! DOORS OPEN AT 6 PM, FIGHTS START AT 7 PM!!!