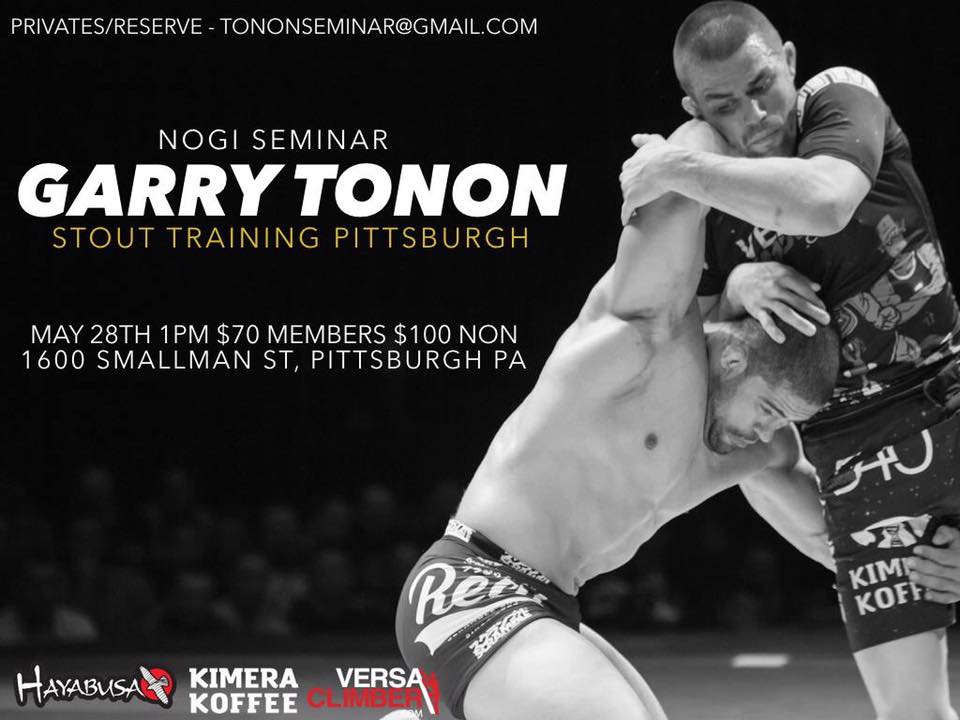 Garry Tonon No-Gi Seminar May 28th
On May 28th, Stout Training Pittsburgh – Team Renzo Gracie will be hosting a No-Gi Seminar with Garry Tonon open to both members and non-members. The seminar will run from 1-3 pm and will cover a variety of techniques that Garry has used to becoming one of the biggest names in professional grappling.
Garry Tonon is a Brazilian jiu jitsu black belt under Tom deBlass and Ricardo Almeida, having earned important medals for his team (Renzo Gracie Academy – NJ/Ocean County), including titles at the IBJJF World and Pan American Championships. Known as a No Gi specialist, Tonon earned his reputation through various accomplishments in prestigious grappling events, particularly in the submission only format such as: Metamoris,Polaris and Eddie Bravo Invitational (EBI). Garry Tonon has also worked extensively with coach John Danaher at RGA – NYC.
Garry Tonon Jiu Jitsu
Full Name: Garry Tonon
Nickname: "Lion Killer".
Lineage: Mitsuyo Maeda > Carlos Gracie Sr. > Helio Gracie > Carlos Gracie Junior > Renzo Gracie > Ricardo Almeida (> Tom deBlass) > Garry Tonon
Main Achievements:
World No Gi Champion (2011 & 2012 brown)

World Champion (2008 juvenile blue)

Pan American No Gi Champion (2010 purple absolute, 2011, 2012 brown weight & absolute, 2015 black)

EBI WW Champion (2014, 2015)

EBI LW Champion (2015)

FIVE Grappling Nevada Champion – No Gi (2014 weight & absolute)

FIVE Grappling Nevada Champion – Gi (2014)

Metamoris Superfight Winner (2014)

FIVE Grappling Superfight Winner (2015)

Pan American No Gi Runner-up (2010 purple, 2015 black absolute)

World No Gi Championship 3rd Place (2011 brown absolute, 2014 black absolute)

Pan American No Gi 3rd Place (2011 brown absolute)
Members can sign up at the front desk, non-members can register —-> Here!!!