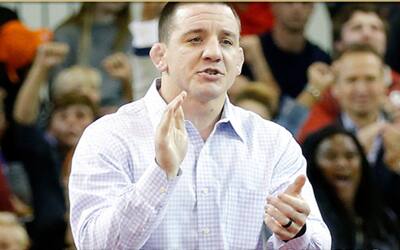 TAKEDOWNS FOR JIU JITSU CLINIC WITH PITT WRESTLING HEAD COACH KEITH GAVIN
Stout PGH is excited to host University of Pittsburgh head wrestling coach Keith Gavin on Wednesday November 10th at 6 pm in the Strip District for a clinic with a focus on takedowns for jiu jitsu. In addition to coaching Pitts's wrestling program, Gavin has trained with a number of Stout PGH staff members, in both wrestling and no-gi jiu jitsu (submission grappling).
Prior to becoming head coach of the Panthers wrestling program, Keith also wrestled for Pitts. As a Panther, Gavin was the 2008 NCAA 174-pound national champion and a two-time All-American. His 120 career wins rank eighth in program history. Gavin is a two-time EWL champion, two-time EWL Wrestler of the Year and is a member of the EWL Hall of Fame. After college, Gavin was a member of the U.S. national team for over six years, placing third at the 2012 U.S. Olympic Trials before capturing the U.S. National Championship in 2013 and 2014.
In Gavin's first season as head coach at Pitt during the 2017-2018 season he was awarded the Amateur Wrestling News Rookie Coach of the Year. This past season, 2020-2021, Pitt's progress on the mat was on full display for all of college wrestling to see during the 2021 NCAA Championships. Two Panthers — Jake Wentzel (165) and Nino Bonaccorsi(197) — followed up their ACC titles by advancing to the national finals and securing NCAA All-America status at the national tournament in St. Louis. All five Panthers that qualified for NCAAs won at least won match and scored valuable team points. The result was Pitt finishing 11th in the nation — its best team finish at NCAAs since 1970 — largely thanks to the program placing two Panthers into national finals in the same year for the first time since 1963. For his role in leading the Panthers to historic success at nationals in 2021, Gavin was named the ACC Co-Coach of the Year. Overall, Pitt has had 21 NCAA Qualifiers, 7 ACC Champions, & 6 All-Americans during Gavin's time as coach.
This clinic will run $30 for Stout PGH members & $50 for non-members. All adult jiu jitsu classes in the Strip District, Monroeville & Zelienople will be cancelled for the clinic. We will also be doing drawings for prizes including tickets to Pitt Wrestling home matches for the upcoming season open to all clinic attendees.
STOUT PGH MEMBERS REGISTER HERE