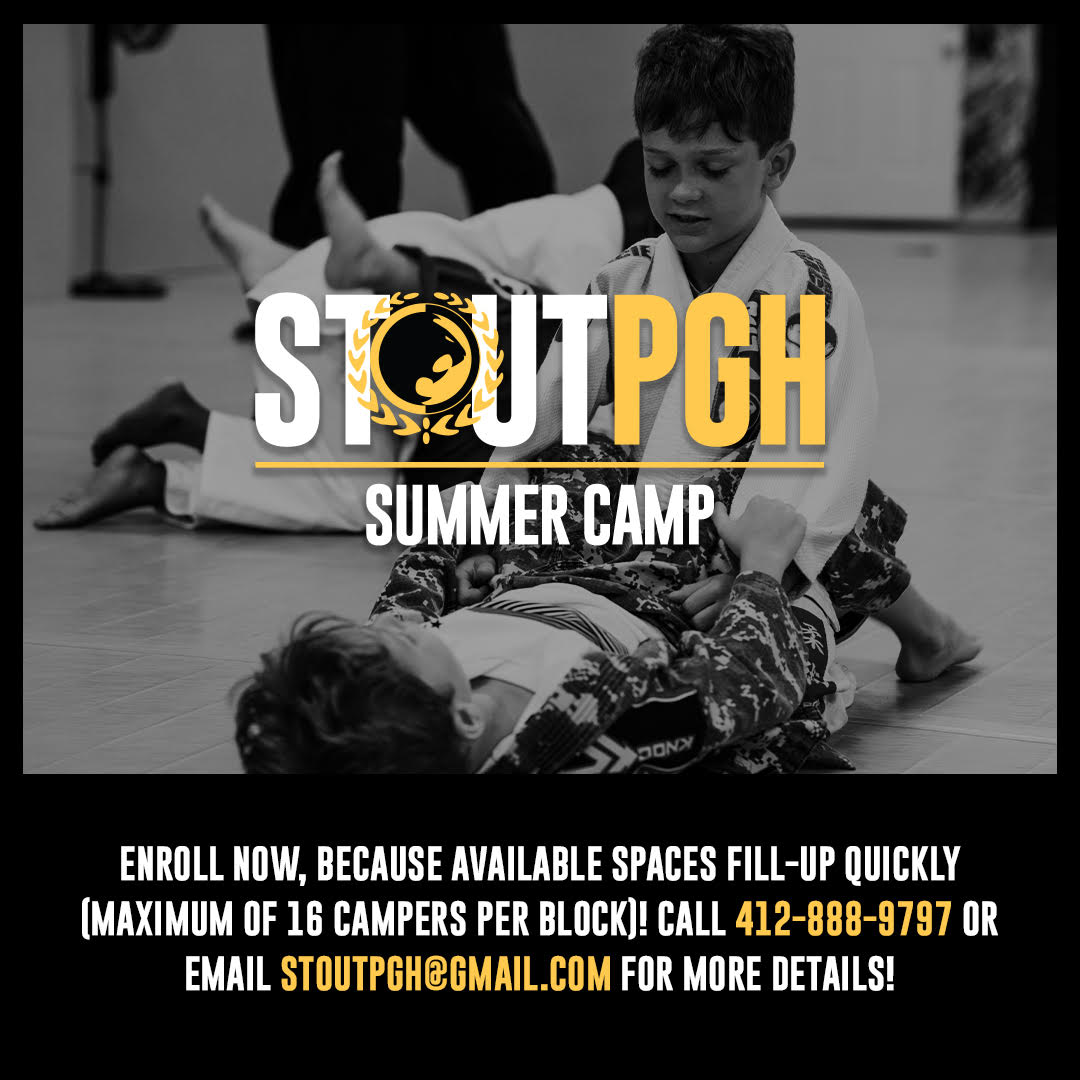 Stout PGH Summer Camps 2021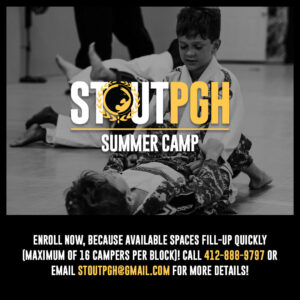 Stout PGH Summer Camp is an action-packed day camp for kids ages 7-12. Located in Pittsburgh's Strip District location, our camp features authentic Jiu Jitsu, sports, team-building exercises, and tons of activities. Each session runs Monday-Friday from 9am-4:30pm, and additional family members can receive a discount. (15% for 2nd & additional family members or multiple blocks of camp) We offer 2 blocks of two week sessions Mondays through Fridays of our Summer BJJ Day Camp, one in Zelienople & one in the Strip District
Block One: Week of June 14-18 & June 21-25 (Zelienople)
Block Two: Week of June 28-Jul 2 & July 5-9 (Strip District)
Enroll now, because available spaces fill-up quickly (Maximum of 16 campers per block)! Call 412-888-9797 or email stoutpgh@gmail.com for more details!

What will my child do at the BJJ Summer Day Camp?
Campers will engage in a variety of high-energy activities, including dodgeball, Brazilian Jiu-jitsu, day hikes, tug-of-war, and more! Counselors are not only enthusiastic and positive role models, but are thoroughly trained and possess current CPR/AED and PA Child Clearances.
At our summer camp we practice life skills such as focus (through fun guided meditation/visualization exercises), bully prevention (through role-playing games), real world self-defense that recognizes that situational awareness is the most important component. Starting in 2021 we will also have boxing offered during the week We also provide healthy snacks during the day. (Please pack a peanut free bagged lunch for your child daily). Camp is conveniently schedule from 8:30-9am drop-off time until 4:45-5:30pm pickup time Monday Through Friday. Ages 7-12 Welcome. No prior martial arts experience needed. Each week limited to 16 participants.
You can register for one block for $545/block or both for $900/2 blocks. We also have a multi-week or family discount of 15% off. You can also do one week for $300 and a day rate of $85.
MULTI BLOCK AND/OR FAMILY DISCOUNT
Have questions or need more information? Call/text 412-888-9797 or email stoutpgh@gmail.com