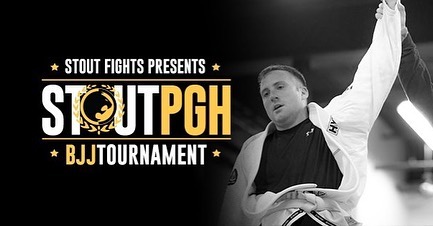 Stout PGH NoGi Tournament May 8th
On May 8th Stout PGH  will be hosting another Pittsburgh BJJ Tournament with men's & women's divisions, in both beginners ,intermediate & advanced (NoGi). This is a great opportunity for white & blue belts to start competing in a relaxed environment without spending a lot of money or for anyone looking for a good "tune-up" tournament to prepare for a competition later in the year. With a double elimination format competitors can expect to get a minimum of two matches. We will use the Grappling Industries ruleset for beginners brackets (white belts and/or under 1 yr experience) & Grappling Industries ruleset for intermediate brackets (straight ankle locks & knee bars) (blue belts and/or 1-3 years experience). Due to high demand we are again adding an advanced bracket (all leg locks & submissions allowed) You can do the bracket that is appropriate to your belt level if you have more experience than listed on the brackets (i.e. 2 year white belt, 4 year blue belt, etc.) However there are no leg locks at beginners & no heel hooks or toe holds at intermediate. This tournament once again, is open to any competitors, regardless of school or team affiliation!
LOCATION:
Stout PGH
2626 Railroad St Pittsburgh, PA 15222 (Corner of 26th & Railroad St on the 1st floor of The Hub parking garage)
SCHEDULE:
Adult Weigh-Ins: 11 am -12 pm
Adult Bracketing: 12 pm-1 pm
Adult Rules Meeting: 1-1:30 pm
Adult Tournament: 1:30 – 4:30 pm
Competitors can pre-register for $50 & Registration ends on Thursday, May 6th.
Call/text 412-419-8404 or email andy@stouttrainpitt.com with any questions.
Competitors can pre-register for $50 & Registration ends on Thursday, May 6th. 
Tournament Registration
Registration Form and Payment Form for Tournaments