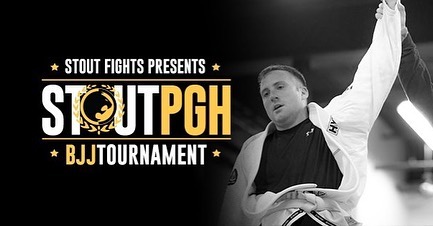 Stout PGH Beginners & Intermediate NOGI Tournament Dec 3rd, 2022
On December 3rd, 2022 Stout PGH  will be hosting another Pittsburgh BJJ NOGI Tournament with men's & women's divisions, in beginners (white belt or less than 18 months experience) & intermediate (blue belts or more than 18 months experience). This is a great opportunity for white & blue belts to start competing in a relaxed environment without spending a lot of money or for anyone looking for a good "tune-up" tournament to prepare for a competition later. With a double elimination format competitors can expect to get a minimum of two matches. We will use a modified Grappling Industries ruleset for beginners brackets (white belts but allowing straight ankle locks) & Grappling Industries ruleset for intermediate brackets (straight ankle locks & knee bars allowed) (blue belts). You can do the bracket that is appropriate to your belt level if you have more experience than listed on the brackets (i.e. 2 year white belt, 4 year blue belt, etc.) However there are no leg locks beyond straight ankle lock at white belt & no heel hooks or toe holds at blue belt. (I.E. No twisting leg locks)  This tournament once again, is open to any competitors, regardless of school or team affiliation!
Weight classes for men's divisions will be 145 and below, 145-155, 155-170, 170-190, 190-220, & >220. (Reminder, if your weight is above the weight class you *cannot* do that weight class. You can email up until midnight on Thursday December 1st if you need to change weight classes. Missing weights will result in a DQ.)
As this is NOGI competitors will be required to wear a rash guard/compression shirt and board shorts (no metal zippers or buttons)
Weight classes for women's divisions will be 132 and below & 133 and above.
LOCATION:
Stout PGH
2626 Railroad St Pittsburgh, PA 15222 (Corner of 26th & Railroad St on the 1st floor of The Hub parking garage)
SCHEDULE:
Weigh-Ins: 11 am -12 pm
Bracketing Adjustments: 12 pm-1 pm
Rules Meeting: 1-1:30 pm
Tournament: 1:30 – 4:30 pm
As there will be no weight class changes, we will be releasing brackets on Friday, December 2nd
Competitors can pre-register for $50 & Registration as well as weight class changes ends on Thursday, December 1st.
Call/text 412-419-8404 or email stoutpghandy@gmail.com with any questions.
Competitors can pre-register for $50 & Registration ends on Thursday, December 1st.