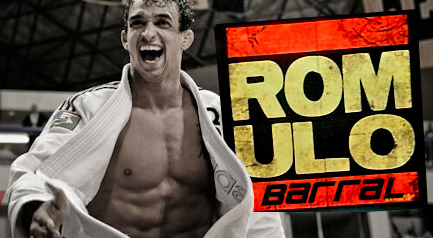 Romulo Barral Jiu Jitsu Seminar
We are really excited to announce another high profile seminar at Stout Training Pittsburgh / Team Renzo Gracie. Romulo Barral Seminar 8/17/2014 in Pittsburgh! If you are making a top ten list of the best Brazilian jiu jitsu competitors of the past 10 years Romulo Barral has to be on your list. He is the current (2014 IBJJF middle-heavy wt world champion).  He as consistently been at the top of competitive BJJ for the past 10 years. Not only has Romulo established himself as a great competitor but he has produced some very good students in a short amount of time.  He is known as the innovator of many "spider guard" positions.
A short summary list of his major championship wins:
4 x IBJJF World Champion (gi)
ADCC Champion 2013
No-Gi World Champion
2 x Brazilian National Champion (Gi)
He has also won silver medals 3 times at open/absolute wt in the world championships and won European and Asian IBJJF championships.  Romulo also fought and won two MMA fights via submission.
The seminar will be from 11am-2:30pm on Sunday August 17th.  It will be a gi seminar with focus on both guard and top positions.  Romulo will share the drills and techniques that he uses to beat the worlds best.  If you are serious about jiu jitsu this seminar might be the quickest way to jump a level and concepts will pay off through continuing development as your training continues throughout the years.
The seminar will be from 11am-2:30pm on Sunday August 17th. Space is limited to 44 participants. We expect to reach capacity quickly based on other seminars we have had, so don't wait to register.   This seminar is open to members of any academy or affiliation. Web Registration cost is $80. You may also register at Stout Training Pittsburgh during regular class-time hours anytime before the day of the event for the same rate.  Day of Registeration (if spots are available) is $100.
Click the Link  below for web registration:
https://ov171.infusionsoft.com/app/manageCart/addProduct?productId=22
Contact us at 412-888-9797  or  renzograciepittsburgh@gmail.com
Seminar will be held in Pittsburgh's Strip District at:
Stout Training PIttsburgh/Team Renzo Gracie  2020 Smallman st, 3rd fl, Pittsburgh PA 15222