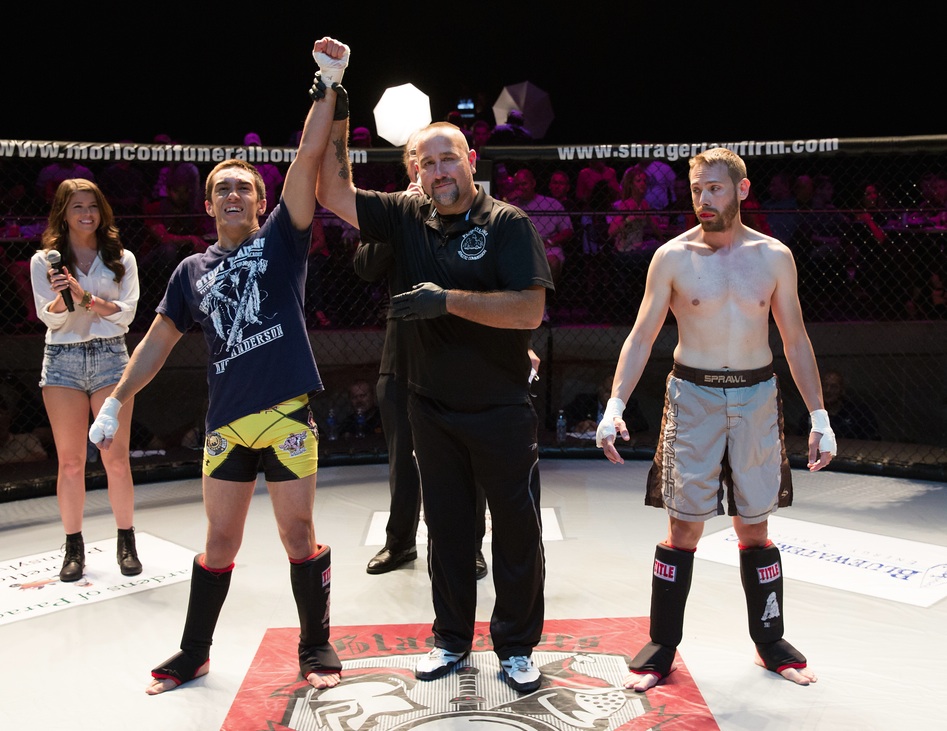 Overcoming a Physical Handicap in MMA; 5 Questions with Andy Anderson
Andy just came off of his first victory in Mixed Martial Arts.  He currently holds a 1-1 MMA record and will fight again soon in Pinnacle Fighting Championships in Pittsburgh.  Andy is the program director at Stout Training Pittsburgh – Team Renzo Gracie.  Most of his teammates and training partners in MMA practice and jiu jitsu classes may not even know he has, and continues to battle cerebral palsy.  Cerebral Palsy is a physical handicap that causes, among other things, difficulty in control and coordination of one's body.  Stepping into a cage with someone who wants to hurt you is something intimidating for even athletically gifted people.  Andy has embraced this challenge.  Below is a short interview with Andy.
Q: Why is Jiu Jitsu and MMA important to you?
A: Jiu Jitsu & MMA provide an avenue for me to prove to myself that I can accomplish things I set my mind to. I really enjoy jiu jitsu first and foremost because it enables me to compete on a physical level with able bodied individuals and level the playing field if I have superior technique. This need for good technique drives me to work hard.
Q: Can you talk about the special challenge you face and how it manifests day to day physically and mentally.
A:  With cerebral palsy the most challenging aspect that I experience on a day to day level in training is getting the affected areas of my body to move in the precise ways that are needed in order to execute proper techniques. It can be frustrating mentally when I know what the right technique is but it does not come on the first try as a physical manifestation of my knowledge.
Q: What motivates you to train hard and be disciplined? 
A: I try to break down each day & each individual training session into small goals & tasks to accomplish so I don't get burned out by the big picture of being the best athlete I can be. I also mentally frame hard training as a goal to be embraced in itself and I have really come to enjoy the feeling of tiredness after a hard training session when I know I truly exerted my best effort. Each day I try to do this when I wake up, so it become habit forming and I have noticed that these habits also have extended to other areas of my life, both professionally as well as in my personal relationships. The more disciplined I become, the better person I become.
Q: I understand you went to a Catholic University and your faith is important to you.  Does your faith/religion affect how you deal with challenges?
A:  I believe that every individual is on this Earth for a reason and that it is up to the individual to find that reason. I try to run the race as to win, so to speak. I've had numerous people tell me that I inspire them. I feel that overcoming my challenges and  helping inspire others is one of  the reason I am here.
Q: What would you say to a) a 12 year old thinking about getting involved in MMA  b) someone who just lost their job and is in bad health
A: To the young person I'd say, If your parents have the financial means to support your goals, start Brazilian jiu jitsu, wrestling, and kickboxing or boxing. If they do not just wrestle. Most middle schools have wrestling programs and it is the best sport on earth to build the mental fortitude to become a mixed martial artist. Ideally, do all of these sports.
To someone who may be down on their luck I'd say first they have to tryto frame things in a more positive light, even if it is very hard. Everyone has their own challenges but let me share a personal example that relates to your question.  In December 2011, I was unemployed in Steubenville, Ohio with no money, no way to get home and no way to recoup my loss on the car I spent thousands on from a private individual who went AWOL. In addition I was broke, 60 lbs overweight and developed MRSA all in the same month. I started eating nothing but $1 cans of tuna, $0.85 bags of brown rice & peanut butter in order to get healthy and save money. I got a job cleaning toilets at Franciscan University while I was waiting for classes to start again in the spring while applying for every job I could find in town or on campus. It honestly was the lowest time in my life. I got a position as the head of student workers in the fitness center at FUS, decided that it was now or never to lose weight and get back in shape and started training to become a MMA fighter.Anything can be done with hard work and initiative by a positive individual.