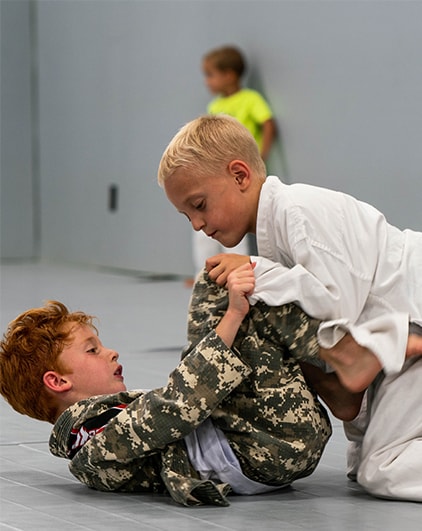 Stout Training Summer Camps 2019
Stout Training Summer Camp is an action-packed day camp for kids ages 5-14. Located in Pittsburgh's new Strip District location, our camp features authentic Brazilian Jiujitsu, sports, team-building exercises, and tons of activities. Each session runs Monday-Friday from 9am-4:30pm, and additional family members can receive a discount. (25% for 2nd & additional family members) We offer 4 sessions of our Summer BJJ Day Camp plus NEW Competition Camp in June & July 2019 (June 17th-21st, June 24th-28th, July 15th-19th & July 22nd-26th for the Summer BJJ Day Camp & July 8th-12th for the Competition Camp) Enroll now, because available spaces fill-up quickly! Call 412-888-9797 or email stoutpgh@gmail.com for more details!

What will my child do at the BJJ Summer Day Camp?
Campers will engage in a variety of high-energy activities, including dodgeball, Brazilian Jiu-jitsu, day hikes, tug-of-war, and more! Counselors are not only enthusiastic and positive role models, but are thoroughly trained and possess current CPR/AED and PA Child Clearances.
At our summer camp we practice life skills such as focus (through fun guided meditation/visualization exercises), bully prevention (through role-playing games), real world self-defense that recognizes that situational awareness is the most important component. We also provide healthy snacks during the day. (Please pack a peanut free bagged lunch for your child daily). Camp is conveniently schedule from 8:30-9am drop-off time until 4:45-5:30pm pickup time Monday Through Friday. Ages 5-14 Welcome. No prior martial arts experience needed. Each week limited to 20 participants.
NEW COMPETITION CAMP!!!
Starting this year we will be our Competition Camp for serious youth competitors from July 8th-12th in the Strip District. This camp is for Youth BJJ practitioners & competitors who want to take their jiu jitsu to the next level. Each day will feature 3 sessions with both gi & no-gi featuring drilling, competition preperation, mindset and simulation matches. This camp is open to Youth students ages 10-14 from all teams & affiliations. (Age exceptions can be made on a case by case basis.)
We offer 4 sessions of our Summer BJJ Day Camp plus NEW Competition Camp in June & July 2019 (June 17th-21st, June 24th-28th, July 15th-19th & July 22nd-26th for the Summer BJJ Day Camp & July 8th-12th for the Competition Camp)
Have one child, register for our early bird discount (Limited to first 20 sign ups until June 15th) $259/week. We also have a multi-week or family discount. Select the package and amount of weeks you would like from the links below:
MULTI WEEK AND/OR FAMILY DISCOUNT
Have questions or need more information? Call/text 412-888-9797 or email stoutpgh@gmail.com