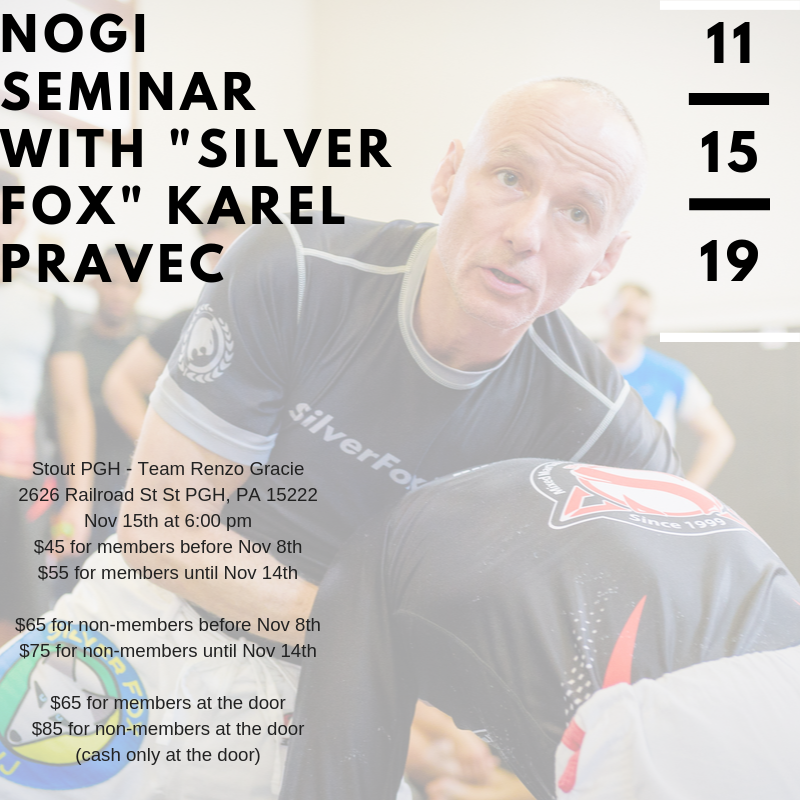 NoGi Seminar with "Silver Fox" Karel Pravec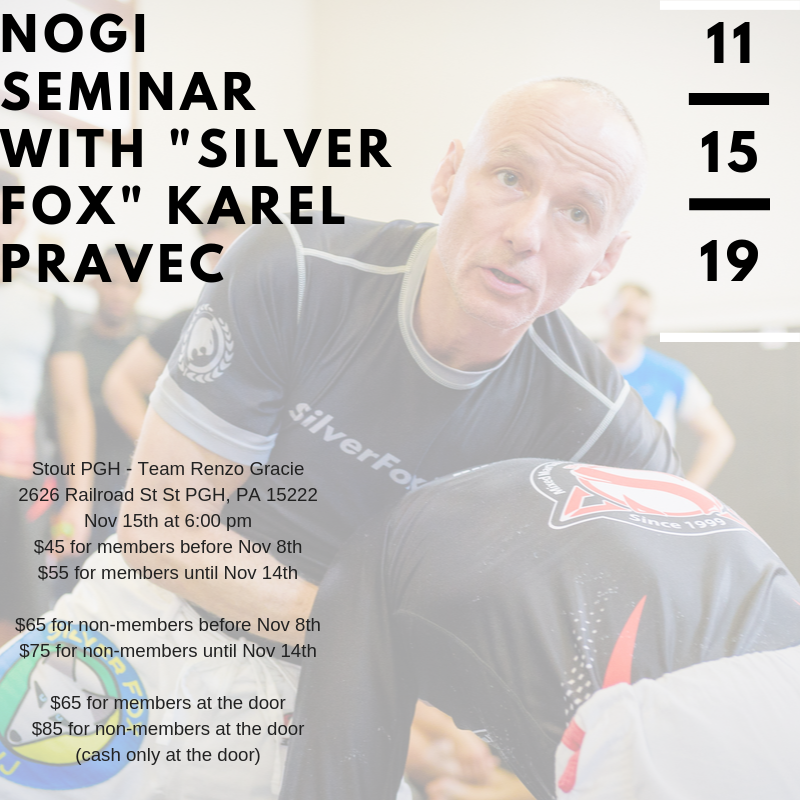 Join Stout PGH – Team Renzo Gracie for a NoGi Seminar with 3rd degree Renzo Gracie black belt Karel "Silver Fox" Pravec on Friday November 15th at 6 pm. This NoGi seminar will cover Silver Fox's guillotine system, including offensive & defensive set ups, submissions, follow ups, form of control to get into dominant position and arm-in vs no arm-in variations.
Covered by many articles and endorsed by some of the biggest names in Martial Arts (see below), Karel has been training in Brazilian Jiu-Jitsu since 1993. During his training at the Renzo Gracie Academy, Karel has trained with and studied under some of the highest authorities in the art including Renzo Gracie, John Danaher, Rodrigo Gracie, Daniel Gracie, Matt Serra, Ricardo Almeida & Shawn Williams. Karel is one of Georges St. Pierre's training partners when Georges periodically visits the Renzo Gracie Academy in New York. Karel is a highly sought after instructor who has taught seminars across the United States, Canada, Europe and Latin America. He has coached BJJ and submission grappling on national and international level (ADCC, IBJJF, GQ and NAGA tournaments) & cornered amateur and professional MMA fighters.
Endorsements
"One must never be entirely comfortable at what he has achieved. This is the truth behind every great Jiu-Jitsu teacher… Karel Pravec is always improving his game and his knowledge of the art… He knows that to do otherwise is to settle. I salute you my fellow Black Belt. Excellence among us, it's a must… Our students deserve the best of us. Thank you for belonging to our tribe.
Fernando Pessoa, a great Brazilian writer once said … "The value of things is not the time they last, but the intensity with which they occur. That is why there are unforgettable moments and unique people!" Karel Pravec is among those unique people; lucky are those who learn under his tutelage."
Master Renzo Gracie : 6th degree BJJ Black Belt, MMA Pioneer, 2x ADCC World Champion & Grandson of BJJ Founder
"Karel is one of my favourite training partners. The insights in his book are excellent to learn many techniques for advanced martial artists."
Georges St. Pierre : 

12x UFC World Champion, 

Considered one of the greatest MMA fighters of all time 

& BJJ Black Belt
"I've been training with Fox since I was a Blue Belt. His Jiu-Jitsu is pure efficiency and has been an instrumental part of the Tristar Gym curriculum.In his book, he not only teaches a variety of powerful techniques, but he also includes pool workouts/techniques. The pool workouts, in my opinion,hit three birds with one stone. 1st it's therapeutic, 2nd it increases your fitness level, and 3rd it makes your technique instinctual. Drilling is the key to success, but comes at a price: it taxes the body. Fox has found a brilliant solution."
Firas Zahabi, Renowned MMA Coach & BJJ Black Belt
"Back in the early 1990's, Karel was one of my first training partners in the early days of the Renzo Gracie Academy. We came up the ranks together and now that we are both long time Black Belts, I frequently ask him to visit my school to teach the professional class. I cannot say enough good things about his technique and teaching methods. I highly recommend the book!"
Matt Serra, Former UFC World Champion, 

Decorated BJJ Black Belt & Renowned MMA Coach
This seminar starts at 6 pm on Friday Nov 15th and will run aproximately two hours.
Cost will run as follows:
$45 for members before Nov 8th (SIGN UP HERE)
$55 for members until Nov 14th
$65 for non-members before Nov 8th (SIGN UP HERE)
$75 for non-members until Nov 14th
$65 for members at the door
$85 for non-members at the door
(cash only at the door)